Ms. Bomba and Kanye strut their homemade designs on the runway at the DCPS Trashion Fashion Show in 2015. See full blog post about the amazing culminating display of wearable trash to treasure HERE!
I used to be a world class treasure hunter. Five weeks ago, when I was still excited to pick up discarded refuse with my ungloved hand, I considered the rustier, dirtier, filthy back alley-er, in the middle of the road-ier the object, the better. It was so much fun to share in the joy of uncovering a forgotten gem on the sidewalk with my four year old (a budding treasure hunter himself), and watching him give new life to an old object with fresh eyes. Man, we found some good stuff.
What will become of us treasure hunters in a post COVID-19 world? Will there ever be a post COVID-19 world? Will treasure hunting still be considered a whimsical, curiosity-inspiring activity for young and old alike or will it go the way of the Dodo?
I hope not.
Oscar exploring his found object "collection" at the light table center at School Within School, his amazing Reggio Emilia inspired DC Public School
Trash to treasure has been the standard practice of artists forever. It now has fancy names like Upcycling, Reclaiming, and Recycollaging, but before all that, Dumpster Diving was the name of the game. Artists were the Olympic athletes of the sport.
A quick shout out to my favorite Dumpster Diver of all time, an OG gold medalist you may say, our very own Aunt Lizzie. Aunt Lizzie, community volunteer royalty and StudioMaury MVP, has salvaged hundreds of priceless goodies for the Maury art studio over her 30 years as a volunteer for our school. She's filled my children's play rooms with books, wooden sculpture, and childhood whimsy, not to mention outfitted my own personal wardrobe for the past 10 years I've known her. She has the best eye of anyone I know and truly values the idea of easing the burden on landfills by giving new life to old items.
Upcycling, or creative reuse, as defined by Wikipedia, means:
the process of transforming by-products, waste materials, useless, or unwanted products into new materials or products of better quality and environmental value.
More popular than ever, Wikipedia also emphasized the ever-growing trend of the medium with this fun fact:
Upcycling has shown significant growth across the United States. For example, the number of products on Etsy or Pinterest tagged with the word "upcycled" increased from about 7,900 in January 2010 to nearly 30,000 a year later—an increase of 275%. As of April 2013, that number stood at 263,685, an additional increase of 879%.
(Gulp. That kind of exponential growth looks frighteningly similar to the current US growth curve for new cases of Coronavirus. STAY HOME, PEOPLE!)
Transforming useless or unwanted products into new materials is an idea from which the Dadaists enthusiastically borrowed. I feel like I always hearken back to my boy Duchamp, but he and his cohort's creation of ready-mades were all cheeky examples of objects being repurposed for intellectual provocation and material reuse.
Duchamp's Bicycle
Man Ray's Emak Bakia
Joseph Cornell gets a lot of attention for his "boxes." Not sure why, but you do you, Cornell. I'm not here to be a hater. Go ahead with your boxes full of stuff.
Robert Rauschenberg gets even more love for his assemblages, which are basically canvases with items glued to them. Some sell for as much as 89 million dollars. Who am I to judge? I would like to know where he gets his glue though…
If you really want to throw it on back, quilters have always repurposed fabric scraps for use in functional objects while creating intricate masterpieces of artistic merit in the process. Take the Amish for example. Many Amish quilts use reclaimed fabric from previous generations of quilters as a way to give new life to well-loved and sentimental materials.
Ever heard of the Philadelphia Magic Gardens? Well take a virtual tour here to see how my favorite outsider artist, Isaiah Zagar, uses mosaic techniques to create an immersive, 3D, mixed-media environment for visitors using found objects! Philly is so cool and will surely be one of the first places I visit once we're allowed to move and groove across state lines together again.
Artists are always looking for ways to use found objects to enhance their creative process. I would be remiss not to mention an eccentric, Ukrainian-born artist with particular trash pickin clout, the late Louise Nevelson. Nevelson described herself as the "original recycler" and spent much of her career roaming the streets of NYC looking for discarded wood to put in her giant, monochromatic relief sculptures. Nevelson hung with the big dogs, rubbing shoulders with the likes of Alexander Calder and Hans Hofmann, as well as smooching with Diego Rivera, Frida Kahlo's husband at the time, causing major tension between the two women. Despite their obvious hatred for one another, both women still found it within themselves to be huge admirers of one another's art work.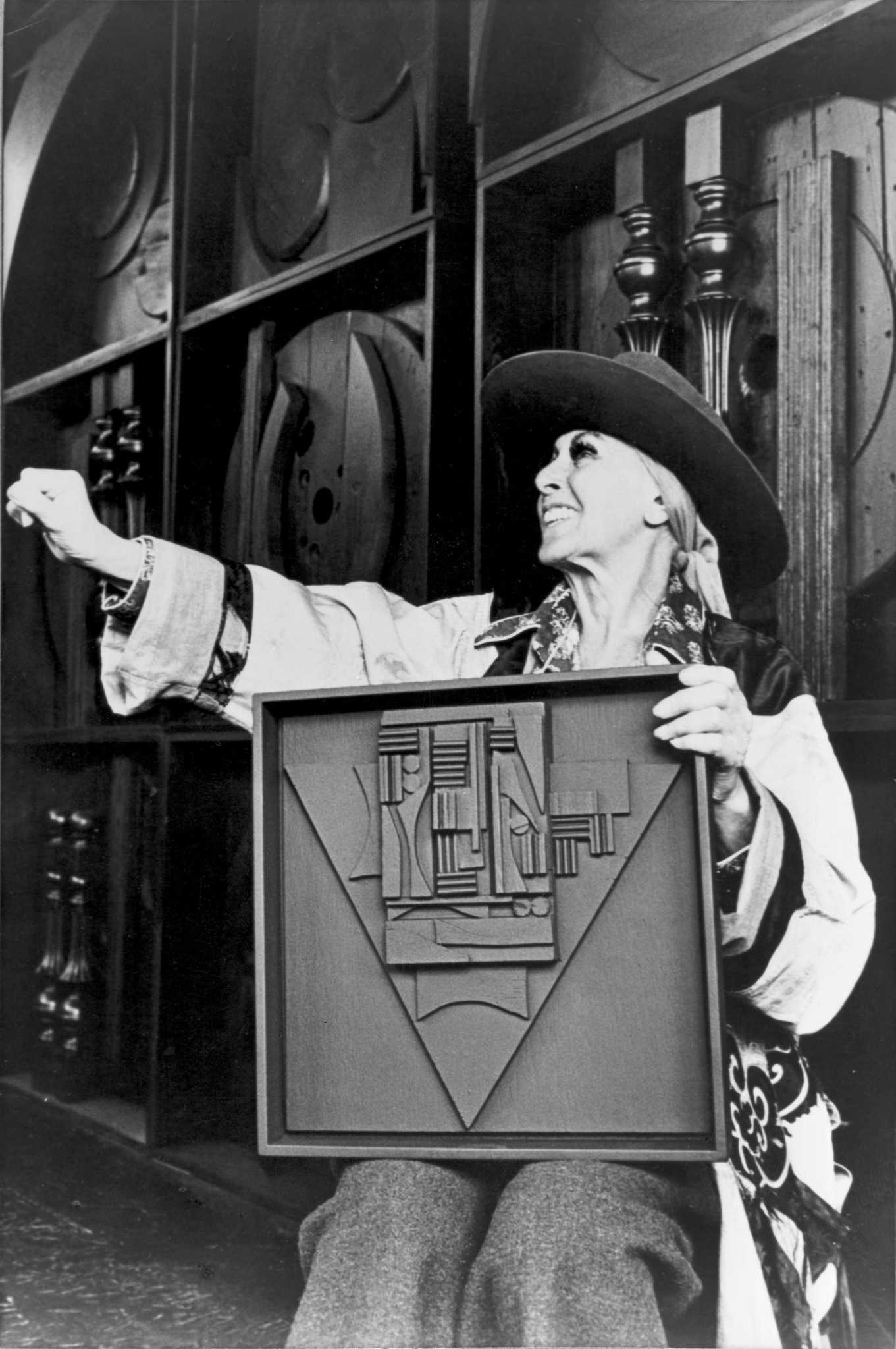 Nevelson arranged her pieces of found wood onto large boards and spray-painted the entire thing one color. When artwork is all one color it is called monochromatic. Black was her favorite shade to work with. She said that painting her art all black was a way of disciplining herself. She described black as "total color" or "the totality of all colors combined." Without much emphasis on color, the viewer is able to focus more on the forms used within the work. What familiar forms do you notice when you look closely at Nevelson's sculptures?
Now you may be wondering how all this talk about found objects, treasure hunting, and creative reuse applies to you. So glad you asked! I want you to try out a few activities for me. Pick and choose which assignments speak to you. Send me your process pics and grand finale shots as well. There are endless possibilities for what you can do with a little trash and there's no better time to get creative with materials than during a quarantine. Happy hunting, just remember, don't pick up the gross stuff!
Lesson Extensions:
Hunt for objects with similar traits in common from around your house and arrange them in a way that celebrates your collection. Use Louise Nevelson as your inspiration. Is your collection monochromatic, meaning all one hue? Are you more interested in creating a collection of shapes than colors? Maybe your work is themed by category, for instance, a collection of Legos, dolls, art supplies, balls, or food items.
Oscar's collection of orange toys and his assortment of spheres and circles (almost)
2. Upcycle a piece of trash from your home. Give new life to an old Amazon box. Turn an egg carton into something exquisite! Have tons of toilet paper rolls lying around but no toilet paper? Upcycle them for us and share what you've created! Check out this Maury artist who has already re-purposed  trash for the creation of this amazing toy car!
3. Try your hand at Trashion Fashion! Make an amazing outfit entirely from trash and recycled materials. It's so much fun to see how easily certain materials can mimic traditional fabrics. Trash bags, bubble wrap, tin foil, and cardboard are all great base layers to bring your design to life. Use the sidewalk as your runway and WORK. IT. OUT!
I cannot wait to see the boundless creativity that comes from limiting yourself to recycled materials this week. Be sure to email, txt, or tag your work on Instagram with hashtag #StudioMaury.  You can also upload your completed assignments on your teacher's Teams page under Art Assignments! So fancy!