Invader is back, y'all!
You may remember a pretty epic Maury art unit from a few years ago inspired by the work of Invader, an anonymous French street artist who rebels against the elitist museum and elects to display his artwork (without permission) on the walls of public and private spaces. His work can be found all over the world and has a cult following of admirers who play along with his interactive medium by collecting points (think analog video game) whenever they spot his work in plain view. He's been at it for over 20 years and even created an iphone App called FlashInvaders for viewers to use as a way to authenticate their findings and earn points. His bright, pixilated mosaic tiles, inspired by the 80s video game Space Invader, are created in his studio, then installed stealthily under cover of night with cement. He boldly situates the playful bots above bakeries, under bridges, inside tunnels, and even on monuments situated within famous cities throughout the world. Watch his creation and installation process here!
Get the Flash Invaders App on your iphone and play along
Invader, and street artists like him, often hide their identities due to the illegal nature of their work. It's also their way of keeping it real. When people don't know who you are, they pay more attention to your work and what it's trying to communicate.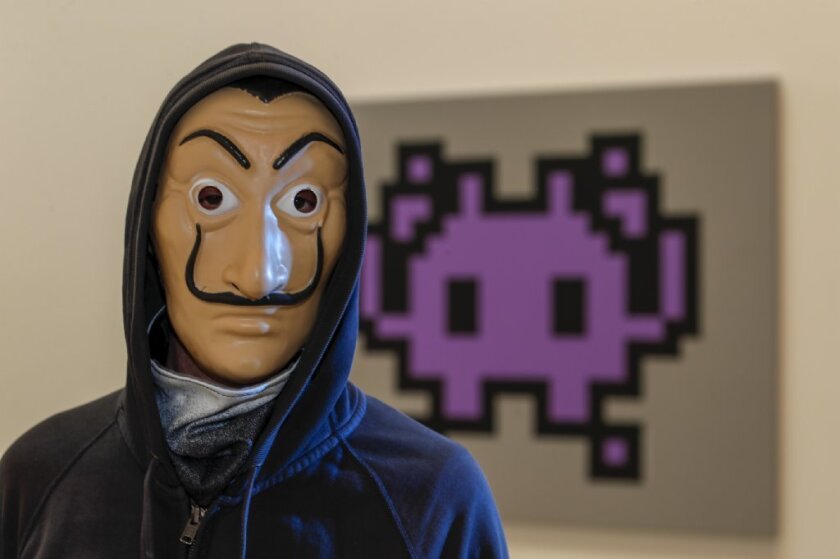 Invader in disguise
For most street artists like Banksy, Invader and Shepard Fairey, the attitude that art should not be locked inside private museums and galleries for only those who can afford the price of admission to enjoy holds true.
When the world is your canvas, art becomes available to anyone.
 "Anybody can enjoy my work in the street, from the president to homeless people. My art has more visitors in the subways of New York than the Louvre." -Invader
LA invasion
Banksy's iconic street art
Shepard Fairey's well-worn OBEY sticker
However, many anonymous street artists, including Invader, have gallery shows from time to time and sell their more polished pieces for hundreds of thousands of dollars, somewhat negating the anti-establishment mentality their work tries so hard to buck. Invader had a solo show in LA not too long ago that was a far cry from his grittier, vandalism-gone-art vibe. Is he selling out? Some may say so. But an artist has got to pay the bills too, I guess?
Sellout or not, our private and public art institutes are closed indefinitely at the moment, so let's adopt Invader's mentality by bringing our art to the streets!
The Louvre, Paris
East Building, National Gallery of Art, Washington, DC
There seems to be no shortage of chalk art out there right now, and people are looking for innovative ways to connect socially, not to mention an uptick in neighborhood scavenger hunts to participate in, so why not combine all three of our latest hobbies and set out to invade the neighborhood with chalk invaders for our community to find?
A Maury student brings life to an old, soggy box of chalk in the early days of quarantine
Many internet suggested chalk art projects, like the stunner above created by our favorite friends in Asheville, NC, have gone viral (should we not say that word anymore?)
Positive messages from Maury kiddos continue to crop up along sidewalks around Capitol Hill
Ready to invade? Here's what I suggest:
-Watch bits and pieces of this video of Invader to get a better feel for his process. Take tips on his stealth moves and find ways to adopt his sneaky installation tactics for your own Invader-inspired artwork.
-Find a cool mask or disguise to wear when invading to hide your identity. Have fun with this. We are all literally trapped inside our homes for the foreseeable future, now is the time to EMBRACE MASK WEARING and fly your inner freak flag! The neighbors will appreciate the entertainment. Trust me, mine did!
-Before invading, begin by creating some prototypes from your home studio on paper so you feel prepared with a plan before setting off on your invasion. This was extremely helpful for me.
-If the weather isn't great, stay inside and build 3D prototypes with pattern blocks, Legos or Duplos. When the weather improves, head outdoors for your invasion.
-If Amazon.com is out of chalk, cut up small squares of colored paper and create mosaics of your invader design to simulate the process of working with pixilated, geometric pieces. Apply a layer of glue or ModPodge to make your work more archival.
-Use graph paper to map out a plan in grid form. It's harder than it looks!
Send your process pics or final invasion shots to me so I can feature you on the blog or Instagram page! Tag #studiomaury.
To collect points, send me photos of Invaders you've spotted throughout the neighborhood. A cool prize awaits the winner of our scavenger hunt!
DC alley invasion underway in NE
Invader knows no limit
Bullfrog Bagel invasion on H St. NE