Who is in the mood for a parlor game?
Many families have gone old school recently and are once again sitting around the kitchen table playing games together! This is one of those strange silver linings we will all look back on fondly and deem a "win" with a bit more distance between our current situation and the place where we can accept positive perspectives like that again.
Quick shout out to DC's favorite local game shop, Labyrinth, who is still hosting virtual events, offering curb side pick-up in collaboration with Mr. Henry's restaurant, and shipping the coolest games, puzzles, and brainteasers Nationwide! Check THEM out! The owner is also a former Maury parent!
Artists have always loved games. Weird games. Wild games. On-the-verge-of-dangerous games. Games that bring out the strange and beautiful inner-workings of our mind type games. The games artists traditionally played were not games for the dull, unimaginative types though. These games were for those whose lived on the edge. For those who walked the thin and crooked line between reality and fantasy while navigating through life compass-free.
The game I promise to teach you today, a little later on, is called Exquisite Corpse.
Sounds intriguing, doesn't it?
It is a drawing game. A social game. A game that requires other people.
Although traditionally, the players of such games were artists and other creative types like writers, musicians, poets, dancers and playwrights–some argue that a player's lack of talent is often a benefit to the game, leading to a more pure and less pretentious outcome. So there's no excuse not to participate. Yeah, I'm talking to YOU.
But first, a bit of context.
Portrait of Andre Breton
It's 1920. The main players and creators of these "get in the mood to make funky art games" called themselves the Surrealists and they were led by an artist named Andre Breton. Breton aimed to create a "super-reality" in his artwork while using the vague, conflicting condition of dreams as the foundation for his artistic movement. Not surprisingly, our girl Frida Kahlo was among the Surrealists, using the hyper-reality of her tragic life to form grotesque, nightmarish statements on the canvas. Juxtaposing two things in contrast with one another, like real and fake, logical and illogical, beautiful and horrific, along with near perfect technical craft, were tenants of Surrealist artwork. See below for some wild examples from this motley crew. Notice how talented they are at depicting realistic subjects in less than normal scenarios.
Burning Giraffes and Telephones by Salvador Dali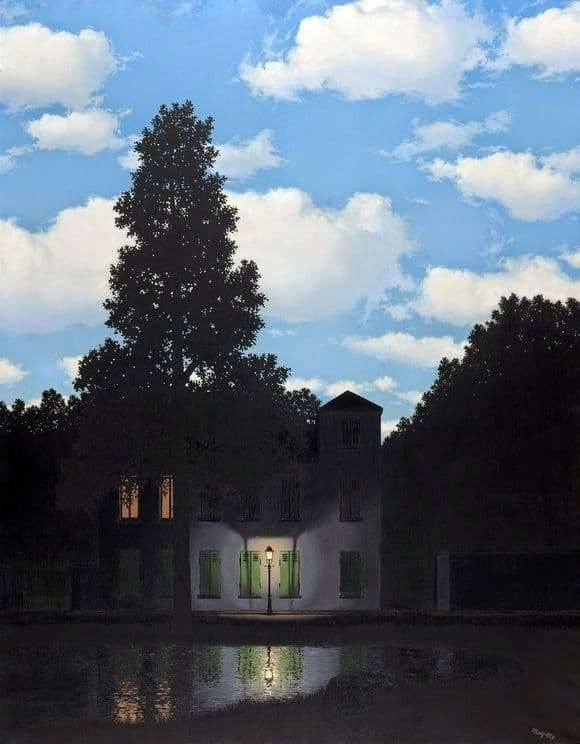 Empire of Light, Rene Magritte
Homesickness, Rene Magritte (this is one of my all time favorite paintings ever–EVER!)
A painting by the moon-obsessed artist Gertrude Abercrombie, a baller female surrealist who I am personally in love with. Sigh.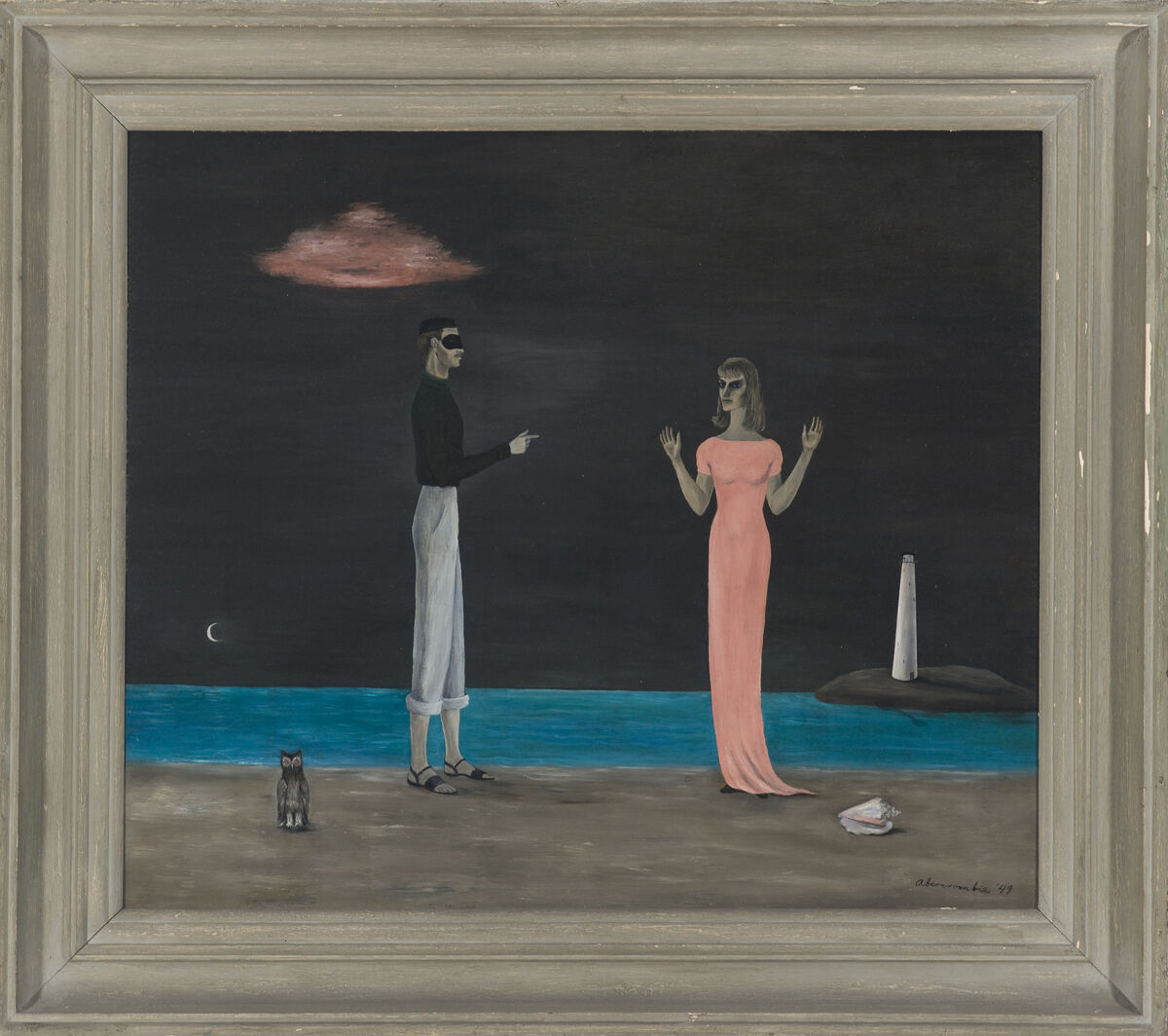 The Courtship, another gem by Gertrude Abercrombie
Although the Surrealist were VERY UNIQUE, they did steal the premise for their artsy warm-up drawing games from a game created by writers, who used the automatic, unbinding format of the game as a way to trigger moments of genius in their own poetry and prose. Their game was called Consequences.
Consequences was the predecessor to Exquisite Corpse. Basically, one person begins by writing a series of adjectives on a piece of paper, folds the paper so the words are hidden, passes the paper to someone new who then writes down a few nouns, folds the paper, passes it to someone else who writes down a zany quote, and so on until a collaborative, poetic narrative is formed and utter ridiculousness and laughter ensues. Basically, grown up Mad Libs. Students should be very familiar with the premise of this game and may even recall a time when a wonderful, delightful sentence resulted from the silliness. Click the hyperlink above for more specifics.
This was exactly what happened one dark and stormy night when the Surrealists were sitting around the smoky parlor of their favorite Parisian haunt on Rue du Chateau.  The ending line to a perfect round of Consequences ended with:
"The Exquisite Corpse will drink the new wine."
The rest was history.
Can anyone guess how the Surrealists adapted Consequences for their own purposes?
Yup. You guessed it. Writing was replaced by hidden drawings. One creative-type began the drawing with a head, hid their contribution from view by folding the page, passed it to the next creative type who then continued without by drawing a torso without any real influence from the originator, and so on until an anthropomorphic body was formed. Below are a few examples of game-play from the masters of Surrealism.
Man Ray, Joan Miró, Yves Tanguy, and Max Morise, Exquisite Corpse, 1928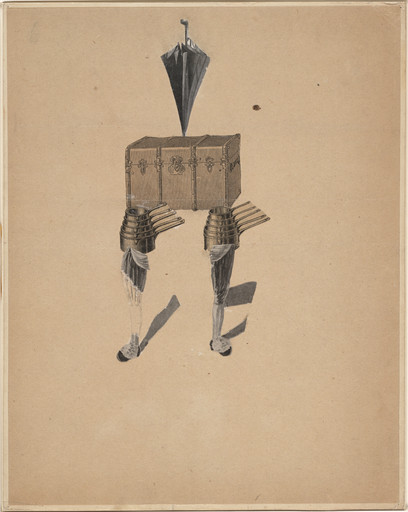 Cadavre Exquis with Andre Breton, Max Morise, Jeannette Ducrocq Tanguy, Pierre Naville, Benjamin Peret, Yves Tanguy, Jacques Prevert, Figure 1928
André Masson, Max Ernst, and Max Morise, Exquisite Corpse, 1927
Not weirded out yet by these uninhibited artists? Well listen to this. One of my all time favorite anecdotes about Surrealism derives from Senor Salvador Dali, the famed Spanish Surrealist painter. Slumber with a Key, was a method he employed  in order to achieve pristine clarity over his dreams, which he believed, would help his artistic process. I learned about the Slumber with a Key method while enrolled in an oil painting class during grad school at the Corcoran College of Art + Design.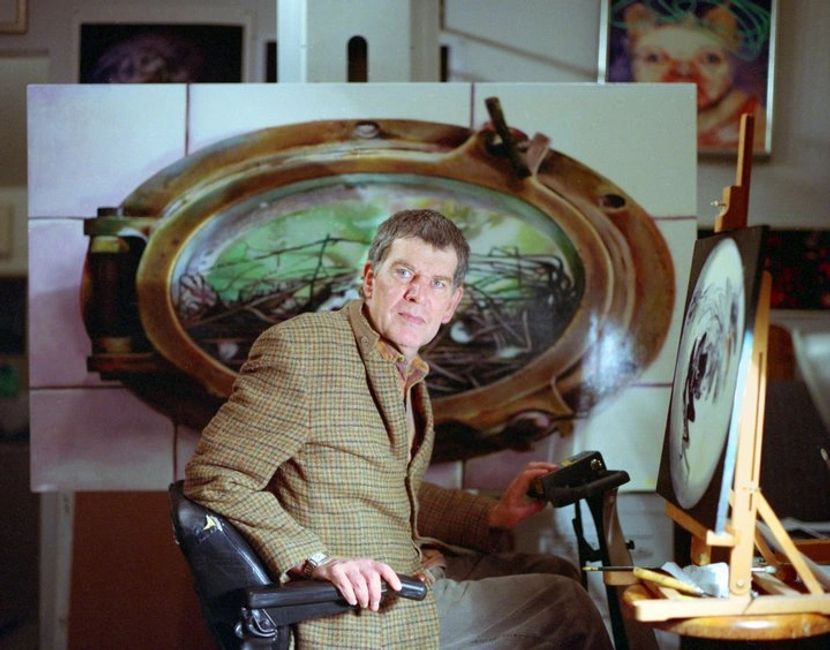 William Newman, the teacher who taught Ms. Bomba everything she knows about oil painting, in his studio
The infamous, crass, and borderline insane (yet highly respected and talented) professor, Bill Newman, taught this class. Newman encouraged his students to "method-create" just like an actor trying to get into character may do. Newman wanted us to try out some of the same strange exercises many extreme artists used when mastering their craft.
Slumber with a Key is one such technique and Dali describes it in his own words here for anyone dying to try it out:
"You must seat yourself in a bony armchair, preferably of Spanish style, with your head tilted back and resting on the stretched leather back. Your two hands must hang beyond the arms of the chair, to which your own must be soldered in a supineness of complete relaxation. […]
In this posture, you must hold a heavy key which you will keep suspended, delicately pressed between the extremities of the thumb and forefinger of your left hand. Under the key you will previously have placed a plate upside down on the floor…. The moment the key drops from your fingers, you may be sure that the noise of its fall on the upside down plate will awaken you." – Salvador Dali, 50 Secrets of Magic Craftsmanship
Dali in an armchair on his terrace. I wonder if this was the one he described above?
Michelle Carr, Ph.D., of Psychology Today, further describes the value of this method saying, "this procedure utilizes the muscle paralysis that naturally occurs upon falling asleep, causing the spoon to drop and startle you awake. Just before awakening you momentarily enter the hypnagogic sleep state, a state similar to REM sleep where the mind is fluid and hyperassociative, allowing creative connections to form, connections between seemingly remote concepts that you may not realize in the structure of waking thought. In other words, in this state your mind is able to bring together distant ideas in a new way."
Can you imagine living under such maddening conditions in order to tap into your creative genius? Allowing yourself just one minute of sleep before being awakened by the clang of a heavy Skeleton Key against a ceramic plate?
Maybe I'm just not cut out for the artist life.
My main point being: artists did, and still do, all sorts of bizarre stuff to harness their creativity.
Back to Exquisite Corpse, the game I promise to walk you through in a step-by-step fashion very soon. You're being very patient. Can you tell I'm lacking intellectual dialogue these days? Breton, in his Surrealist Manifesto, described games involving automatic drawing as "creative fodder," or "one way of unlocking psychic space." This is why GREAT teachers always try to infuse fun into their teaching. It is scientifically proven that play, creativity, and movement lead to better learning outcomes! More games! More creativity! More fun! More learning! For families at home who are Distance Learning and struggling with the workload or motivation factor for your kiddos, here's a pro tip: turn learning into a game!
Oscar playing Sight Word Bingo! This has been a fun way to sneak in some rigor at our house. We all enjoy the break from feeling pressure to keep up with academics and this is such a sneaky way to get it in!
So, are you ready yet? Do you think you're creative enough to sit at the table with other original thinkers like yourself? If so, pull up a chair and try your hand at a round or two of cadavre exquis, French for exquisite corpse!
LESSON EXTENSIONS:
Play a round or two of Exquisite Corpse or Consequences with your family. Help encourage a family member who may be feeling intimidated about drawing by supporting them and celebrating their effort. The rules of the game are below.
Here's how to play:
Step 1
Start with a blank piece of paper, something to write with, and two friends.
Step 2
Fold your paper in three sections along the longest edge, or hamburger-style.
Step 3
Making sure to only draw on the top-most section, create the head for your corpse. Keep this drawing a secret from your partners.
Step 4
Make sure you extend your neck lines a little onto the middle section so the next person knows where to continue from. Fold over the top section so the second person can't see it and pass it to them.
Step 5
The second person draws the torso, again extending the bottom edge onto the bottom section so the last person knows where to continue from. When they are done drawing the torso, fold over the middle section so just the bottom section is visible and pass it along. The third person draws the legs and makes sure they connect to the torso lines.
Step 6
Unfold and relish in your collaborative artwork.
Here's a video of my family taking a stab at it. Oscar is not yet four and we were all still able to have a ball with this. The results were just perfect in my opinion. It's fun to use different color markers for each player so that you can trace back the artist behind the silly sketch.
Exhibit A 
Exhibit B
Exhibit C
2. Here's another fun way to play a similar version to the one above all by yourself! Watch this youtube tutorial to learn how! Parents: This method should keep students engaged independently for a while!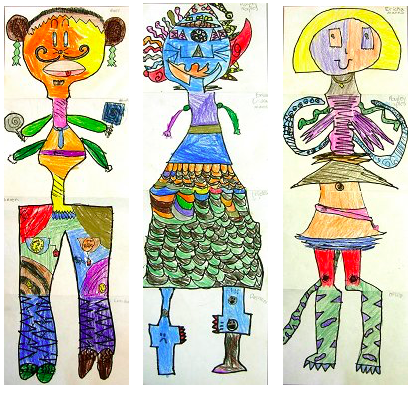 3. Explore new media. Collage, for example, lends itself perfectly to the idea of borrowing ideas and imagery from something that already exists. Cut antlers from a photograph of a deer, glue them to the head of a baby, add the paws of a cat, and the wings of a bat and voila! a exquisite corpse is born!
4. If you're super tech savvy, figure out a way to play Exquisite Corpse with a friend over ZOOM. I am dying to see how this game can be played remotely with cousins, grandparents, classmates and neighbors. I will leave the logistics of how to do it up to you guys but will be so excited to see the results and learn the ropes if you figure it out!
Doing a live ZOOM critique with my 5th graders for their Maury Mission Patch design contest. Sadly, the kids won't get to go to Space Camp this year but we're still getting the 2 winning patches made for our flight suits. 
5. Slumber with a Key
I can't wait to see and hear about the strange and interesting collaborative doodles and techniques you invent this week to tap into your creativity. Ask your family politely to participate along with you.  Send your process pics and end results to me via TEAMS, TXT, EMAIL, INSTAGRAM, or SNAIL MAIL. I do not discriminate on how I get my art fix.